Granite Flagstones Driveway and Patio in Collinswood, Dublin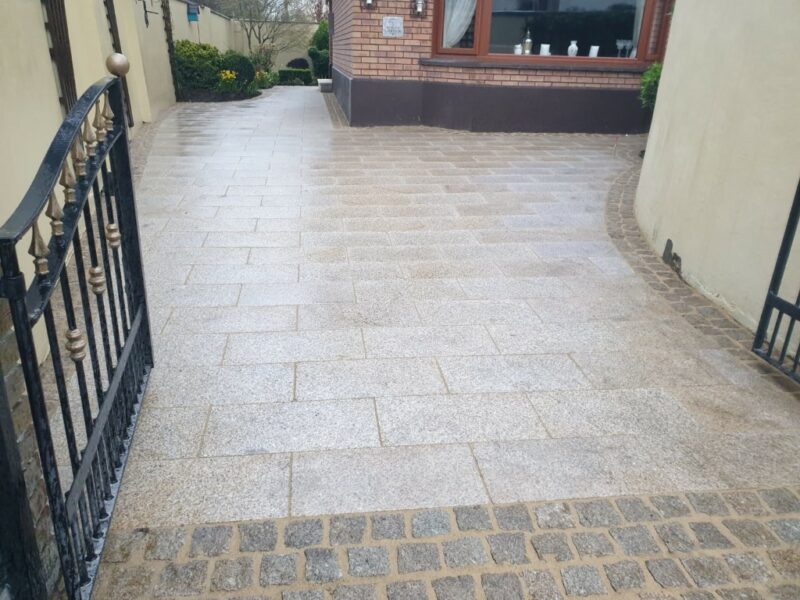 LOCATION
Collinswood, Beaumont, Dublin, Ireland
Job Details
This is a project, that Select Paving has recently finished in Collinswood, Dublin.
First we removed all of the original block paving and kerbing. We laid down a new foundation of a heavy duty weed protection membrane and hardcore stone base.
We created a beautiful old style tumble cobbled border around the whole perimeter.
Then we anchored the Buff Granite Flagstones in cement for extra durability.
Lastly we fashioned a new step at the back door of the house, using the matching flags.
Call Select Paving Dublin today at 01 – 6856262 to make an appointment or request a free, no obligation quotation. If you are looking for more information about our block paving services in Dublin, you can check our website.
The work was:
Driveway, Patio in Collinswood, Beaumont, Dublin, Ireland
Work Done: Excavated And Removed The Area, Extended The Area As Agreed, New Base Foundation Installed, Natural Stone Border, Membrane Weed Block, New Step(s), Slabbing, Machine Rolled Base
Surfacing Material:
Granite Cobbles, Granite Slabs
Read More