Tar and Chippings Dublin
A tar-and-chip driveway, known as tar and chippings, tar and stone, tar and granite, chip and seal, hot bitumen and stone, is created by covering hot bitumen with stone chippings. This surface is commonly used for driveways and laneways in Dublin, as it is hard-wearing, low maintenance, and less expensive than other options.
To create a tar-and-chip surface, hot tar and chip are applied by spraying down a minimum of 2 layers of hot tar, which is covered by a chipping finish which we machine roll and compact into the hot bitumen to lock it the chippings in place.
The stones used in a tar-and-chip driveway typically range from 4mm to 12 mm in diameter. The size of the stone chosen will largely depend on the type of surface being paved and the intended purpose of the driveway. For example, a finer stone may be used for roads and parking lots, while a larger stone may be used for driveways. It is also essential to use stones of the same size to ensure that the surface is even and the stones are correctly compacted.
Tar and chip can be installed with various options on edging, bordering styles and colours to allow a more traditional or contemporary finish to the surface.
Resurfacing Laneways
Granite Chip
Gold Chip
Flint Chip
Benefits of tar and chip
Very Cost Effective
Extremely Durable
Superior Traction
Seals Small Cracks and Imperfections
Excellent Weather Proofing
Gives New Life to Old Surfaces
Tar-and-chip driveways are inexpensive to install and maintain. The aggregate or stone chip used can vary, such as grey granite, marble chip, gold chip and more; it provides excellent traction and good grip in wet or icy conditions.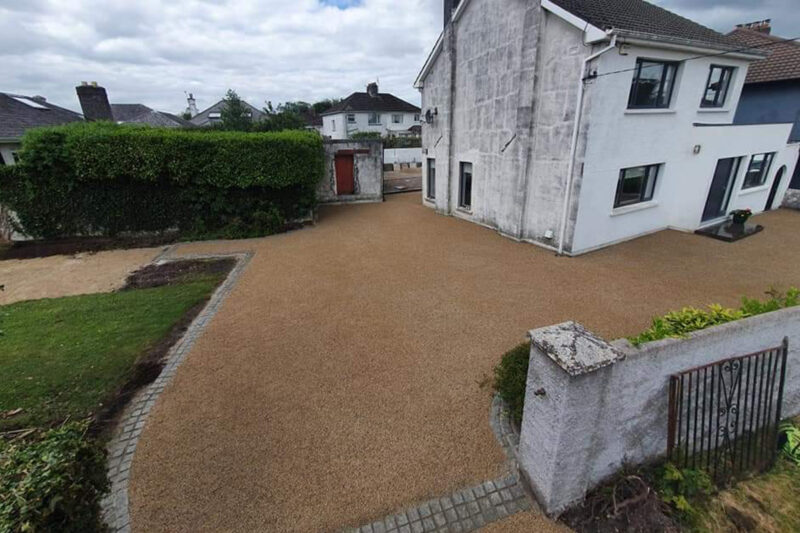 We use our own machinery to lay down the hot tar and chip, ensuring no delay or reliance on any 3rd party contractor. Along with our tar and chip surfacing service, we provide a range of tarmac services, including tarmac driveways in Dublin and a wide range of bordering styles to customise your driveway style further.
It makes an excellent option for resurfacing driveways, laneways or private roads in a fast and affordable way. Call our team today to schedule a free estimate for a tar and chip driveway in Dublin.