Complete Patio Makeover in Tallaght, Dublin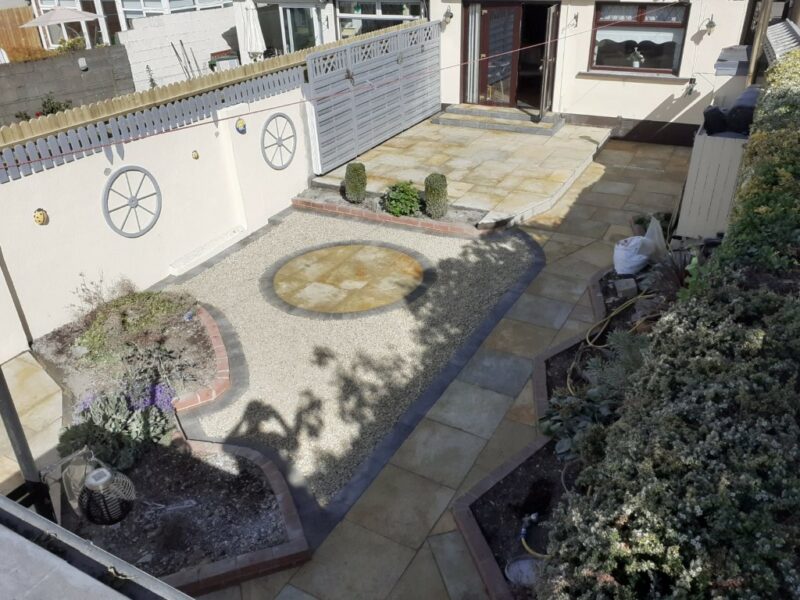 LOCATION
Tallaght, Dublin, Ireland
Job Details
First we created the raised platform with Granite bricks and set them in concrete. We leveled the area on top and laid a a hardcore base to lay the slabs on. We used Yellow Limestone Slabs throughout this whole project. To make the exit from the house onto the patio smoother, we installed a wide, double step at the foot of the door.
Then we moved on onto the lower part of the patio. Once again we laid down a hardcore foundation on top of membrane sheeting. This will prevent any unwanted weed growth. We left some patches of greenery throughout the patio for an organic, natural look.
We also created some raised flower beds using Red paving bricks for a spot of contrast. Edges throughout the patio were laid with Grey borderline.
In the middle of the patio we laid a circle of slabs with the same Charcoal borderline and filled the rest of the area with gravel for yet another contrast of the material used here.
Call Select Paving Dublin today at 01 – 6856262 to schedule an appointment or request a free, no-obligation quotation. To see more details about our patio services in Dublin, head over onto our website.
The work was:
Patio in Tallaght, Dublin, Ireland
Work Done: Excavated And Removed The Area, Removed The Garden, New Base Foundation Installed, Built-Up The Levels, New Drainage System, Paving Border Installed, Membrane Weed Block, New Step(s), Slabbing, Block Kerbs
Surfacing Material:
Limestone
Read More