Do you need a carport?
A carport is something that has become less of a feature on a driveway every year. It is still fairly common on older terrace houses in the UK but you do not really see it much in Dublin anymore.
The purpose of a carport is to provide you a place to park your car whilst still being on the driveway. It will protect the car from the elements and give you a place to step out onto without getting wet. Kind of a like a garage but with no walls or garage door on it!
Now you may wonder, why not just have a garage instead? Well, building a garage is a lot more complicated and will cost you significantly more as well.
Garage vs. carport
Building a new garage, especially if you did not have one previously, will require planning permission. It will require a bricklayer for the walls and a roofer to do the roof. Now you can just get a builder, who can handle that all for you but you will be paying extra for this.
A new garage requires a new base foundation, a concrete or similar styled floor, concrete footings for walling, windows, generally a side door and a main front garage door.
As you can see, this will start to pile up in costs after a while and there is a maintenance required that goes along with it. Oiling the garage door, spring cleaning, guttering systems, regular roof maintenance and more.
Benefits of a carport
No planning permission required, no walling, no new surface, no doors, no windows and very little maintenance. The only maintenance you will require is going to be on the roof.
A car port can be built with no walls by simply using support beams (metal preferably) which are bedded into the ground and will support the roof of the new car port.
If it is backing into a wall, you do not need any extra support, otherwise, we recommend tying it into the side of the house to give it some extra support.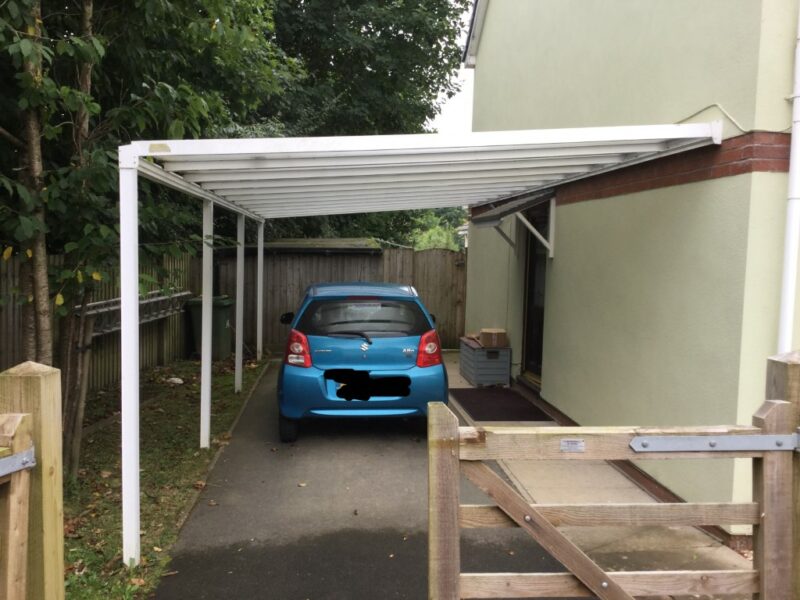 Make sure to pick the right roof for the carport, a nice perplex styled roof will let a lot of light in, unlike a traditional felt roof. Round off the appearance of your carport with a nice gutter, soffit and fascia style to complete the look.
A carport will cost around 1/5th of what a new garage will cost on average. If you already have a carport, the only type of maintenance you will require is making sure the guttering system works, drains away correctly and that the roof is watertight.
Maintenance
If you do need maintenance for your roofing or gutters, we recommend a company such as TC Roofers - Roofing Contractors in Dublin who kindly helped us with some of the technical details for the roofing.
Here at Select Paving, we can install a wide range of carport styles on any driveway without affecting the existing driveway. We can build a new driveway in Dublin around your carport as well.
Options exist for metal frameworks, brick built carports, stand alone or lean to carports and more.