Patio with Boxed Flower-Beds and Roll-Out Grass in Lucan, Dublin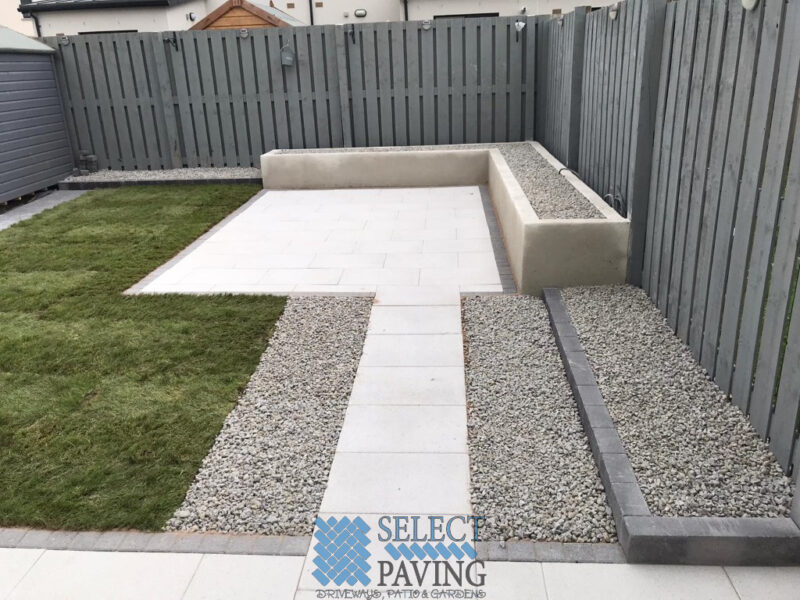 LOCATION
Lucan, County Dublin, Ireland
Job Details
Take a look at some photos of this beautiful patio project, supplied and carried out by Select Paving in Lucan, Dublin.
First we removed the original patio surface and weathered lawn.
Then we installed new hardcore foundation with membrane sheeting underneath.
We built boxed flower-beds in the corners laid the patio with Silver Granite Newgrange flagstones. Border was laid with Charcoal Grey blocks.
Finally we filled the rest of the garden area with fresh roll-out grass.
If you are looking for a professional and exceptional patio contractor in Dublin, Select Paving are the right choice for you! Call 01 – 6856262 to schedule an appointment or to request a free quote on your own patio project.
The work was:
Garden, Patio in Lucan, County Dublin, Ireland
Work Done: Excavated And Removed The Area, Removed The Garden, New Base Foundation Installed, New Walling Built, Paving Border Installed, New Lawn, New Flowerbeds, Slabbing, Rendered Walls
Surfacing Material:
Newgrange Flagstones, Roll on Turf
Read More