New Granite Gravel Driveway in Rathfarnham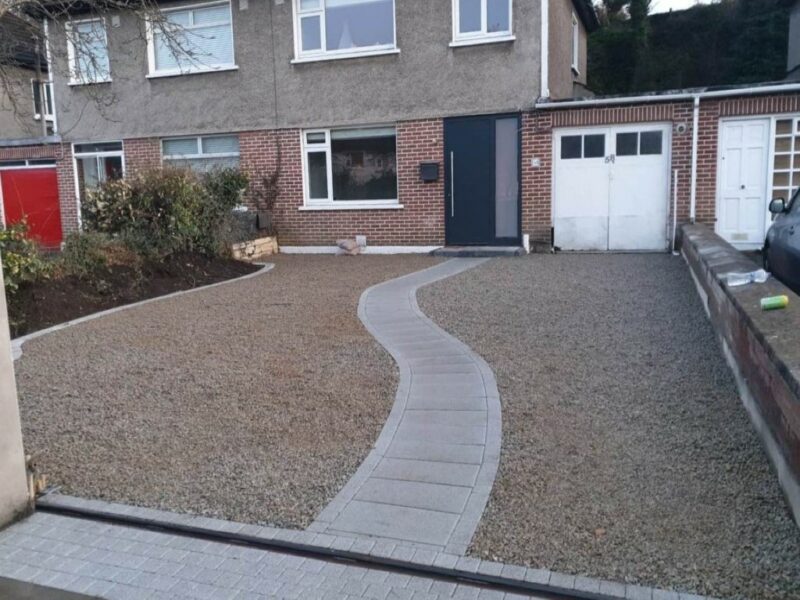 LOCATION
Rathfarnham, Dublin, Ireland
Job Details
Take a look at some during and after pictures of this granite cobble and granite gravel driveway in Rathfarnham, Co. Dublin. All materials and labour were supplied by our professionals at Select Paving.
As always we started by clearing out the existing driveway, which was laid with concrete. We also removed part of the lawn and greenery to significantly widen the usable area.
Our team laid a foundation of an 804 sub-base, as well as a hardcore membrane to stop any unwanted weed growth in its tracks. We created a pathway, edging border and a doorstep using varieties of Granite Cobbles and anchored them down with concrete. The multiple rows of cobbles at the entryway, along with a functioning drainage system, catch an eye of anyone walking by.
The rest of the area was then filled with Granite Gravel and compressed down.
You can check gravel services in Dublin or give us a call directly at Select Paving Dublin for a free estimate on your own driveway project.
The work was:
Driveway in Rathfarnham, Dublin, Ireland
Work Done: Excavated And Removed The Area, Extended The Area As Agreed, Removed The Garden, New Base Foundation Installed, Membrane Weed Block, Slabbing, New Pathway, Machine Rolled Base
Surfacing Material:
Granite Cobbles, Granite Slabs, Gravel Stone
Read More