Mint Sandstone Patio in Finglas, Dublin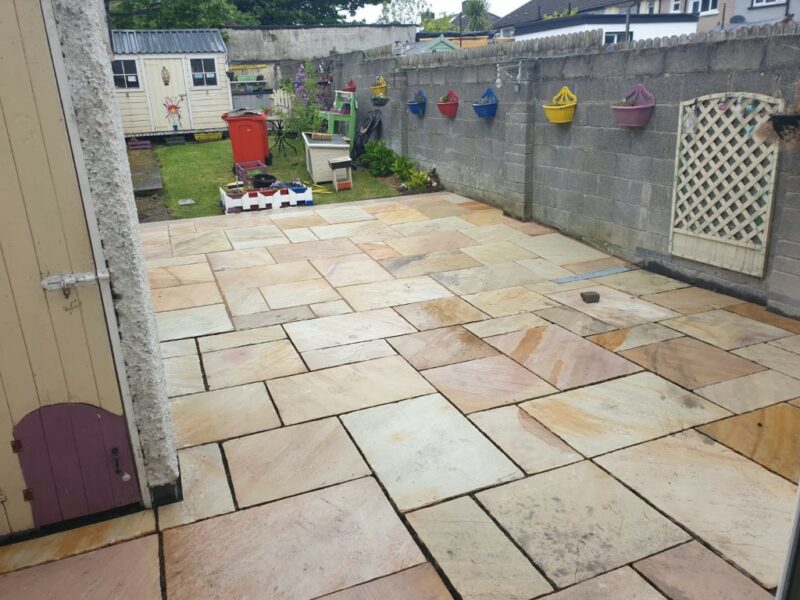 LOCATION
Finglas, Dublin, Ireland
Job Details
Take a look at some before, during and after pictures of this patio completed by Select Paving in Finglas, Dublin.
First we took out the original concrete patio and dug out some lawn to extend the area.
We put down a new hardcore foundation as well as a heavy duty membrane to prevent weed growth. As the patio is slightly sloped, we installed new ACO drains set in concrete, to prevent water pooling on the surface.
Our team laid the patio using beautiful mint sandstone slabs with unique veining details. Finally we grouted the whole patio for extra durability and longevity.
Give Select Paving Dublin a call today at 01 685 6262 to schedule an appointment or request a free, no-obligation quote. For more details about our patio services in Dublin, visit our website.
The work was:
Patio in Finglas, Dublin, Ireland
Work Done: Excavated And Removed The Area, Extended The Area As Agreed, New Base Foundation Installed, New Drainage System, Membrane Weed Block, Slabbing
Surfacing Material:
Indian Sandstone
Read More