Gravel Driveway with Cobbled Pathway and Apron in Templeogue, Dublin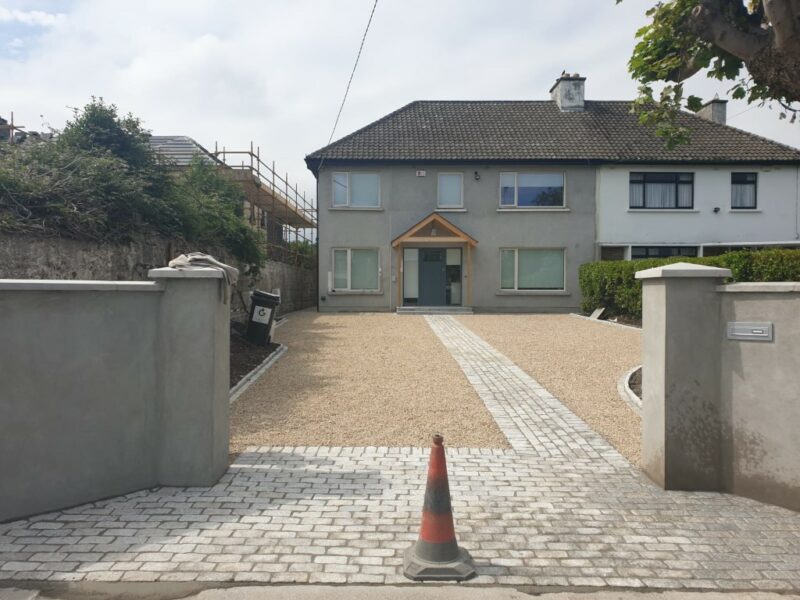 LOCATION
Templeogue, Dublin, Ireland
Job Details
Take a look at some pictures of this gravel driveway, supplied and carried out by Select Paving in Templeogue, Dublin.
First we removed all of the original driveway and laid down a new hardcore foundation on top of a heavy duty membrane.
Then we installed all new kerbing around the perimeter of the driveway and built the new cobbled footpath set in concrete.
We fashioned new wide granite doorsteps to compliment the natural toned design of the driveway.
To distinguish our project from other gravel driveways, we also installed wide cobbled apron at the front of the driveway, which makes the entrance look very inviting.
Finally we applied the gravel chippings all over the surface of the driveway and raked it smooth.
Call Select Paving today to schedule an appointment and bring your own dream driveway project to life. We are looking forward to hearing from you. For more info about our gravel driveway services in Dublin, head over onto our website.
The work was:
Driveway in Templeogue, Dublin, Ireland
Work Done: Excavated And Removed The Area, Removed The Garden, New Base Foundation Installed, Natural Stone Border, Membrane Weed Block, New Step(s), New Flowerbeds, New Pathway, Machine Rolled Base
Surfacing Material:
Granite Cobbles, Gravel Stone
Read More